Chinese medical experts discovered through a cohort study including more than 430,000 participants (median follow-up 9.0 years) that a combination of seven hours of sleep/day, moderate-to-high leisure-time physical activity (LPTA), and low-to-moderate sedentary behavior can reduce the risk of dementia by 41%. These three types of regulatory behaviors have a combined effect over the risk of dementia.
According to the study, sleep duration associated with dementia in a U-shape; LTPA revealed a curvilinear relationship with dementia in diminishing tendency, while sedentary behavior revealed a J-shaped relationship. The clinical research team, led by Jintai Yu, Tianqiao and Chrissy Chen Institute (TCCI) Investigator and Professor of the Neurology Department of Fudan University-affiliated Huashan Hospital collaborated with Wei Cheng, Investigator at Institute of Science and Technology for Brain-Inspired Intelligence (ISTBI), and their research was published in the journal Molecular Psychiatry.
Professor Yu, found more and more studies indicating that the three types of daily behaviors including sleep, physical activity and sedentary actions are associated with the risk of dementia. Relevant studies, however, usually focus on the influence of individual behavior in dementia. Prior to this, there was no evidence clarifying the joint effect of sleep, physical activity, and sedentary actions on dementia.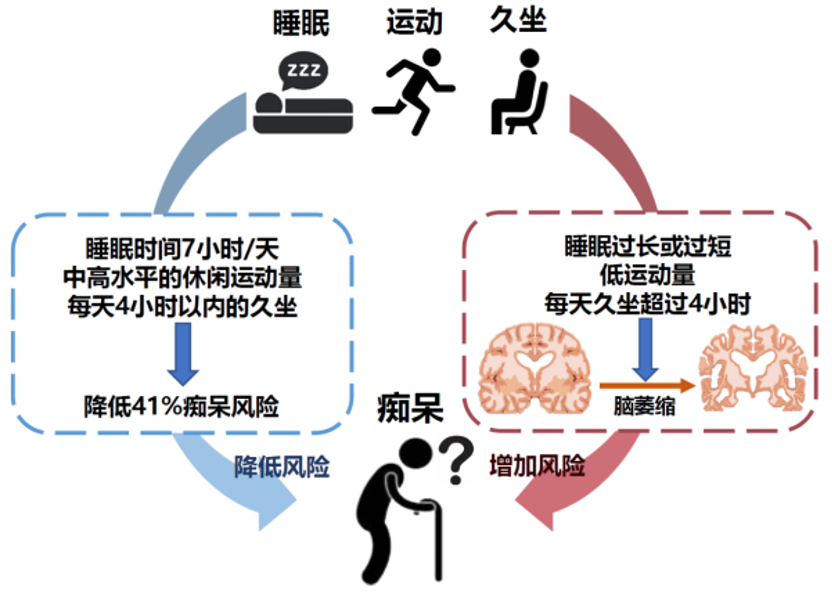 The research shows that the optimal sleep duration is seven hours per day. Oversleep or insufficient sleep will increase the risk of dementia. More physical activities will also reduce the risk but if LTPA reaches relatively high levels (for example 360 minutes walking per week, 300 minutes of moderate activity or 150 minutes of vigorous activity), further physical activity will no longer lower the risk of dementia. Being sedentary for up to four hours will not affect the risk of dementia but longer than that will.
Read more on Molecular Psychiatry's site

*Photo: PixaBay, Sasin Tipchai*