The 14th Annual Meeting of Chinese Neuroscience Society (CNS 2021), the biggest event in the arena, took place in Chong Qing from September 16 to 19,. Tianqiao and Chrissy Chen Institute (TCCI®) sponsored the plenary speech and hosted a themed academic seminar for the first time, which attracted much attention from scientific circles.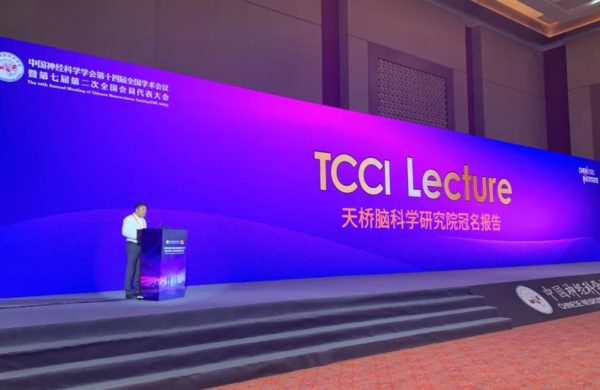 The academic seminar held by TCCI® focused on"Encouraging Scientific Exploration by Continuously Asking Questions." Experts and professionals from various fields including neurology, psychiatry, cognitive science, and artificial intelligence exchanged views and interacted with the audiences through Q&A, centering on two main topics, "BCI and Applied Neurotech" and "AI and Mental Health".
"Pursuing questions" is the key theme TCCI® has been emphasizing this year. Tianqiao Chen, the founder of TCCI®, said during an interview earlier that fundamental research is vital for science in China and is deeply rooted in curiosity and the spirit of "pursuing questions". Einstein once said:" The important thing is not to stop questioning. Curiosity has its own reason for existence." Chen also wants to motivate research in brain science by pursing questions, to encourage young scientists to ask big names in the industry and to cultivate interest in brain science among well-educated lay person such as entrepreneurs, philanthropists, and students.
Chen also revealed that his team is building an internet community called ZNext, which is expected to go online this year with the purpose of further encouraging and supporting the pursuit of more scientific questions. Besides, Additionally, TCCI® recently started"Brain Talk" seminars this year and launched its own WeChat account (id: nextquestion) to facilitate the growing community.
The themed seminar held by TCCI® during the CNS 2021 reflected the key research areas of its two frontier labs in China. TCCI® announced last year and this year that it will donate 50 million yuan to jointly establish a Lab for Applied Neurotech with Huashan Hospital, and a Lab for AI and Mental Health in partnership with Shanghai Mental Health Center.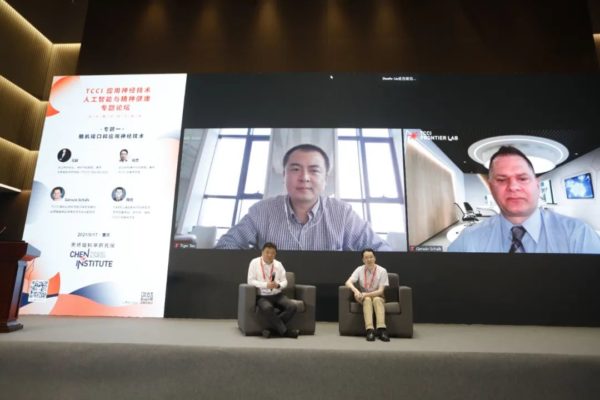 The themed discussion on BCI and applied neurotech was presided over by Professor Mao Ying, President of Huashan Hospital and Director of the Tianqiao and Chrissy Chen Institute for Translational Research. Participants include Chen Liang, TCCI® Investigator and Professor of Neurosurgery at Huashan Hospital, Gerwin Schalk, Consultant at Chen Frontier Lab for Applied Neurotech, and Tiger Tao, TCCI® Investigator and Deputy Director of Shanghai Institute of Microsystems and Information Technology (SIMIT), Chinese Academy of Sciences.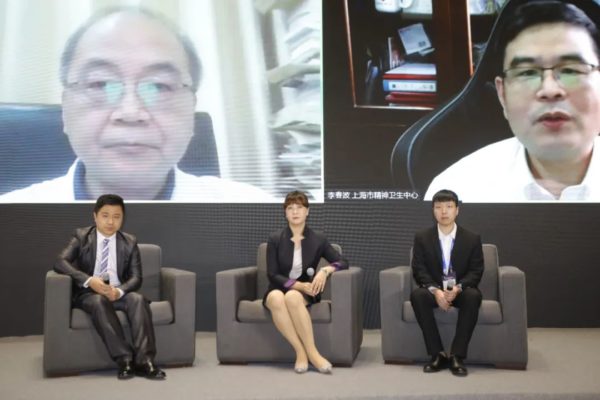 The themed discussion on AI and mental health was presided over by Professor Xu Yifeng, Director of Shanghai Mental Health Center and Head of Chen Frontier Lab for AI and Mental Health. Participants include Professor Li Chunbo, Vice President, Shanghai Mental Health Center and TCCI® Investigator, Chen Ji, specially-appointed Investigator at Department of Psychology and Behavioral Sciences of Zhejiang University, Zhang Ruyuan, Associate Investigator at the Institute of Psychological and Behavioral Sciences of Shanghai Jiaotong University and the industry representative Xie Fei, President of Century Huatong Group.
The seminar came to an end in heated discussions and debate. We will collect and compile the questions asked by audiences online and on the spot, based on which, further discussions will be organized.